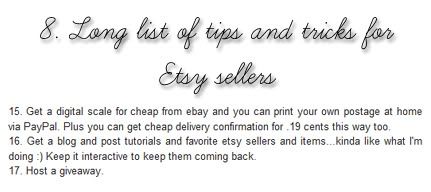 I have compiled a list of all sorts of tips and tricks over the months that I have found to be helpful to me and my shop exposure. These are just my tips and opinions, and can be altered to how you see fit of course, but they have worked for me so far so I thought I'd share.
This list is always being added to! Feel free to add your own tips as a comment and I'll add it to the list.
1. Taking great pictures is KEY! Make sure they are well lit and clear. Use the "macro" function with closeups.
2. Create a light box to help you with this, or learn
PhotoShop
or some other photo editing software.
3. Turn your paypal account into a business account. You can't use a personal account for doing business.
4. Add your shop address and blog url to your email signature.
5.
Create a treasury
! They are fun to make and eventually someone will include you in theirs. Who knows, maybe it will make the front page!
That's how I got there a few weeks ago
!
6. Set up a
Google Analytics
account to see where your viewers are coming from.
7.
Buy ad apace
somewhere for a reasonable price.
8. Don't just post new item listings on facebook and twitter. Keep it interesting and post other things every now and then.
9. Include a link back to your shop in all your listings. You never know how someone may have found you and may not know how Etsy works.
10. Fill out your profile and have clear store policies set up.
11. If you can, always try to include a return policy. Not having one may scare a buyer off.
12. Participate in the
forums
and don't be a downer about lack of sales.
13. Always try to respond to customer convos and emails within 24 hours.
14. To figure out your shipping, take a sample box with your items and packing materials you would normally be including and have the post office weigh it. Also, this link is helpful for determining international shipping costs:
http://postcalc.usps.gov/
.
15. Get a digital scale for cheap from ebay and you can print your own postage at home via PayPal. Plus you can get cheap delivery confirmation for .19 cents this way too.
16. Get a blog and post tutorials and favorite etsy sellers and items...kinda like what I'm doing :) Keep it interactive to keep them coming back.
17. Host a giveaway.
18. Don't send your items off to someone just because they want to review them on their blog. But if you decide to, don't be afraid to ask how many unique visitors they get a day/month and how many subscribers/followers they have to see if it would be worth it.
19.
Make a slide-show
quick and easy with
Google Picasa
and post it to YouTube.
20. Participate in a few
Virtual Labs
. They are really fun and a great way to interact with the Etsy community.
21. Look into getting a
sales tax ID
. The specifics are different for each state.
22. Don't buy your packing supplies from the post office. RIP OFF! Instead, check out
royalmailers.com
or
uline.com
.
23. Use your 14 tags wisely. You can also include your shop name as a tag in a few of your items so buyers can find you by searching for you on etsy.
24. Get some business cards to include in your orders. Give some to your friends and family too to pass around to anyone who may be interested.
25. Don't lower your prices just because you aren't getting sales. Stand firm! You know how hard it was to buy the supplies, create the item, photograph the item, list the item, etc.
26. Thinking about taking custom orders? It would be wise to take a non-refundable 50% deposit from the customer before you even begin. Then have them pay the rest after you set up a reserved listing with images. Don't just go through email with a custom order. Set up a listing on Etsy.
27. It never hurts to include a handwritten "Thank you!" in your customer's order.
28. Join an
Etsy Team
to help with promoting.
29. Staying organized is important. Keep all your receipts from supplies, post office trips, orders, etc so when tax time comes around, it isn't a disaster area!
30. Nice packaging isn't a necessity, but certainly adds a nice touch. Perhaps, around the holidays, include gift wrapping on all orders and if you need to, work it into the price of the item. Or just include it for free!
31. Don't be afraid to ship internationally!
32. Describe your items as if there are no pictures. Be very clear about size, color, texture, weight, height, anything you'd want to know about something before you bought it.
33. List your items at different times of the day and never all at once to get maximum exposure.
34. Keep your shop section titles simple. Don't o v e r u s e s p a c e s t o l o o k c o o l. Google search results won't pick them up when they crawl your shop.